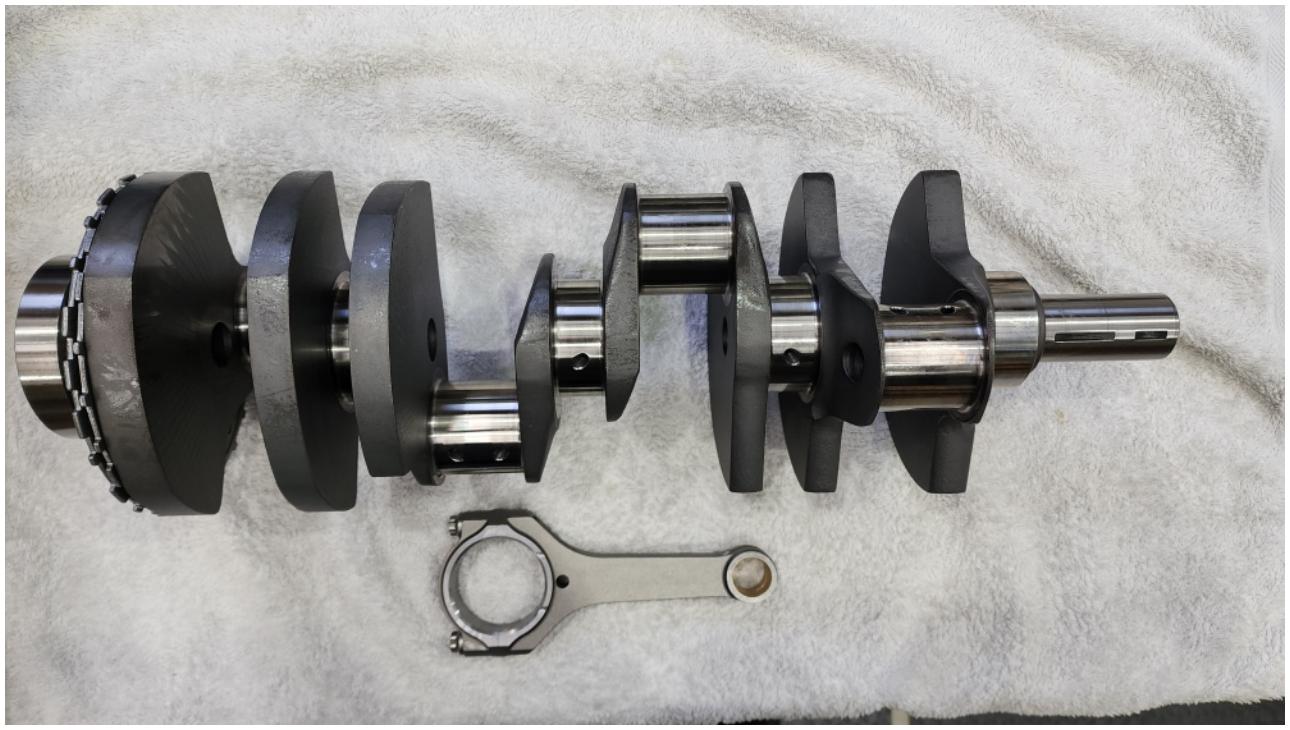 Catalog Item Type:
Kits
Fits Engine:
LS Chev V8
Component Category: Does not apply to this item Kit Category:
Stroker Kit
Package Type: Does not apply to this item Part Number: LS400CR Specification Sheet: Does not apply to this item Price: $ 3 350.00 Discounted Price:
$2 500.00
Shipping Cost: $ 150.00
Total Cost with Shipping:
AUD 2,650.00
Our beautiful 4340 Steel LS Stroker cranks have been available for over 20 years. Their strength and reliability is second to none. Our unique counterweight design keeps them relatively light at under 26kg while incredibly strong and very easy to balance. These features are common to all the cranks we designed and finished over many years. These LS cranks are an easy balance without Mallory Metal or welding with bobweights under 1800 grams.
These stroker cranks feature large fillet radii on rod and main journals for maximum load capacity even under sustained high rpm or boost applications. All our LS Stroker cranks have a 4.00" stroke enabling 383ci from a 5.7Litre engine block. 402ci or larger (depending on bore size) using an LS2 block. 416ci or larger using an LS3 block. 427ci using an LS7 factory block or larger with aftermarket big bore blocks.
Our cranks are supplied with your choice of 58 tooth or 24 tooth reluctor wheel to suit the early and late model VT-VF Commodore model cars.
Our matching billet 4340 steel plate H Beam conrods are the strongest steel rods on the market. Supplied in matched balanced set our 6.125" length LS rods feature the ideal .927" bronze bushed floating piston pin design. Are fitted with ARP 8740 7/16" capscrew rod bolts, fully Sunnen hone sized and pre stretched. You won't have to resize our rods before fitting like many brands of rods on the market. You can disassemble and bolt them straight in. They will not change bore size when torqued to 65 ft.lb using the supplied moly grease on threads.
Our crank/rod kit is on special till the end of September for only $2500.00 plus $150.00 freight and insurance to anywhere in Australia.
Crank only on special for $1400 plus $120.00 freight.
Rod set only on special for $1200.00 plus $50.00 freight.
Send Enquiry