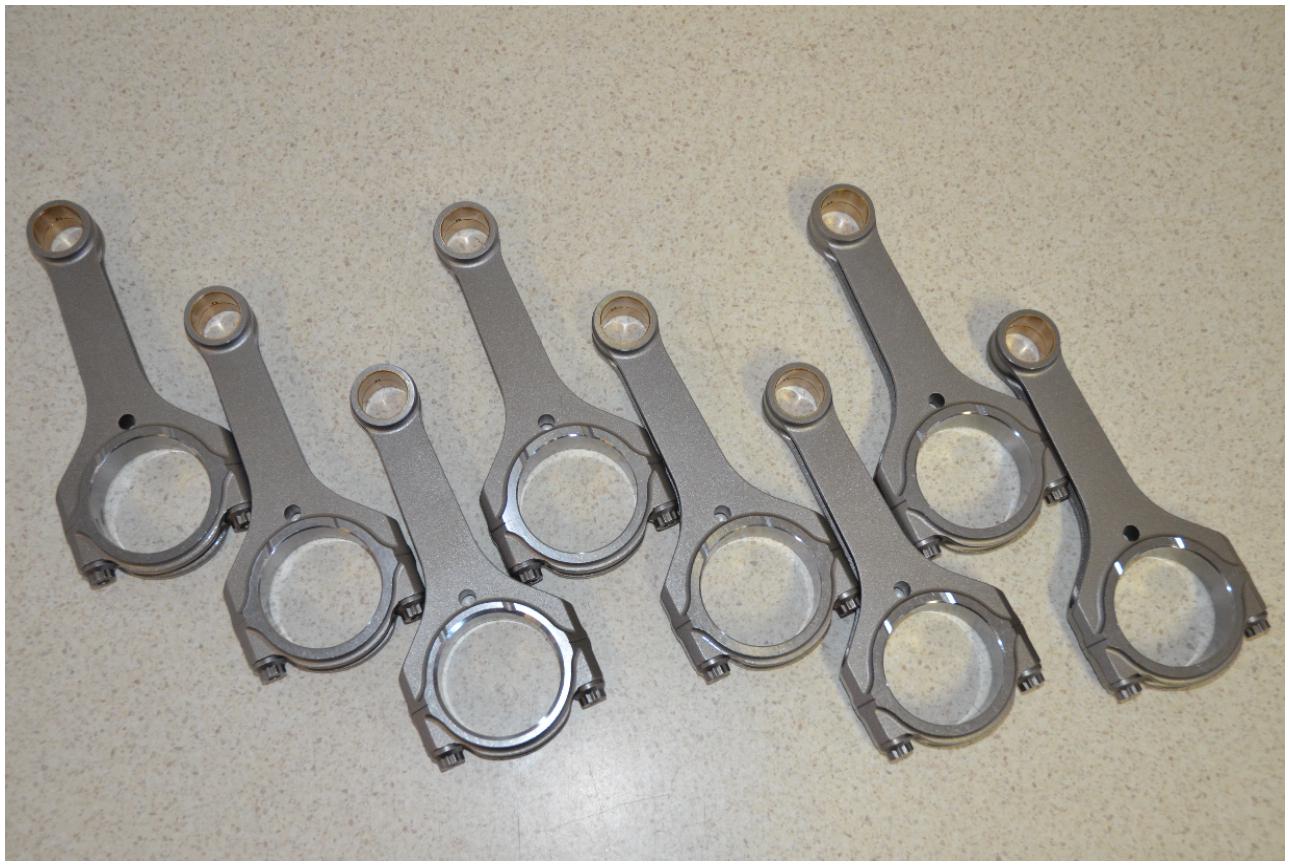 Catalog Item Type:
Components
Fits Engine:
Holden V8
Component Category:
Connecting Rods
Kit Category: Does not apply to this item Package Type: Does not apply to this item Part Number: CRH5700S Specification Sheet: Does not apply to this item Price: $1 600.00 Discounted Price: Not Discounted Shipping Cost: $ 100.00
Total Cost with Shipping:
AUD 1,700.00
After an exhaustive development process we are now offering a BREAKTHROUGH connecting rod set to suit Holden 383ci Stroker engines. After many years of trying to convince both trade and retail customers to build a "bigger" Holden Stroker engine we decided to remedy the main critisism of these engine buildups using the physically larger and substantially stronger "H" beam design connecting rods.
Many customers decided that the additional work of clearancing their cylinder blocks into the water jackets, welding the bulkheads and then grout filling to fully repair the water leakage points was simply not worth the effort. While we have been following this process in building extreme power versions of our 383ci Holden V8 engine packages for nearly 25 years it appeared that our optimism in doing so did not permeate to many other engine builders and retail customers. Many people were simply afraid of the possibility of long term problems with this approach while in our opinion it was more a case of engine builders fearing where they had not treaded before.
Well now we've made it easy for all of you to build the excellent 383ci Holden V8 using the stronger "H" beam con rods WITHOUT EVER HITTING THROUGH THE WATER JACKET in your cylinder block. Not only does this save on block prep costs when using "H" beams but it also means that optioning the stronger "H" beam rods for only a relatively small price increase becomes more desireable.
Our new design sacrifices absolutely nothing in strength and reliability compared to traditional "H" beam rods but enables engine builders to build a 383ci engine for only marginally higher cost than a 355ci version. Our rods are made from the finest billet plate 4340 grade steel. They feature ARP 8740 7/16" fasteners, bronze bushed small ends in .927" to suit the use of custom or tradition Chev Small Block based pistons with fully floating small ends. Our rods are available in 5.7" or 5.850" in centre to centre lengths and have an average total weight of around 620 grams. All our rods are fully peened and heat treated.
Note that we have now made these billet steel rods the standard rods in either our 383ci or 355 Premium stroker kits.
Specify 5.7" or 5.850" at time of ordering.
Send Enquiry