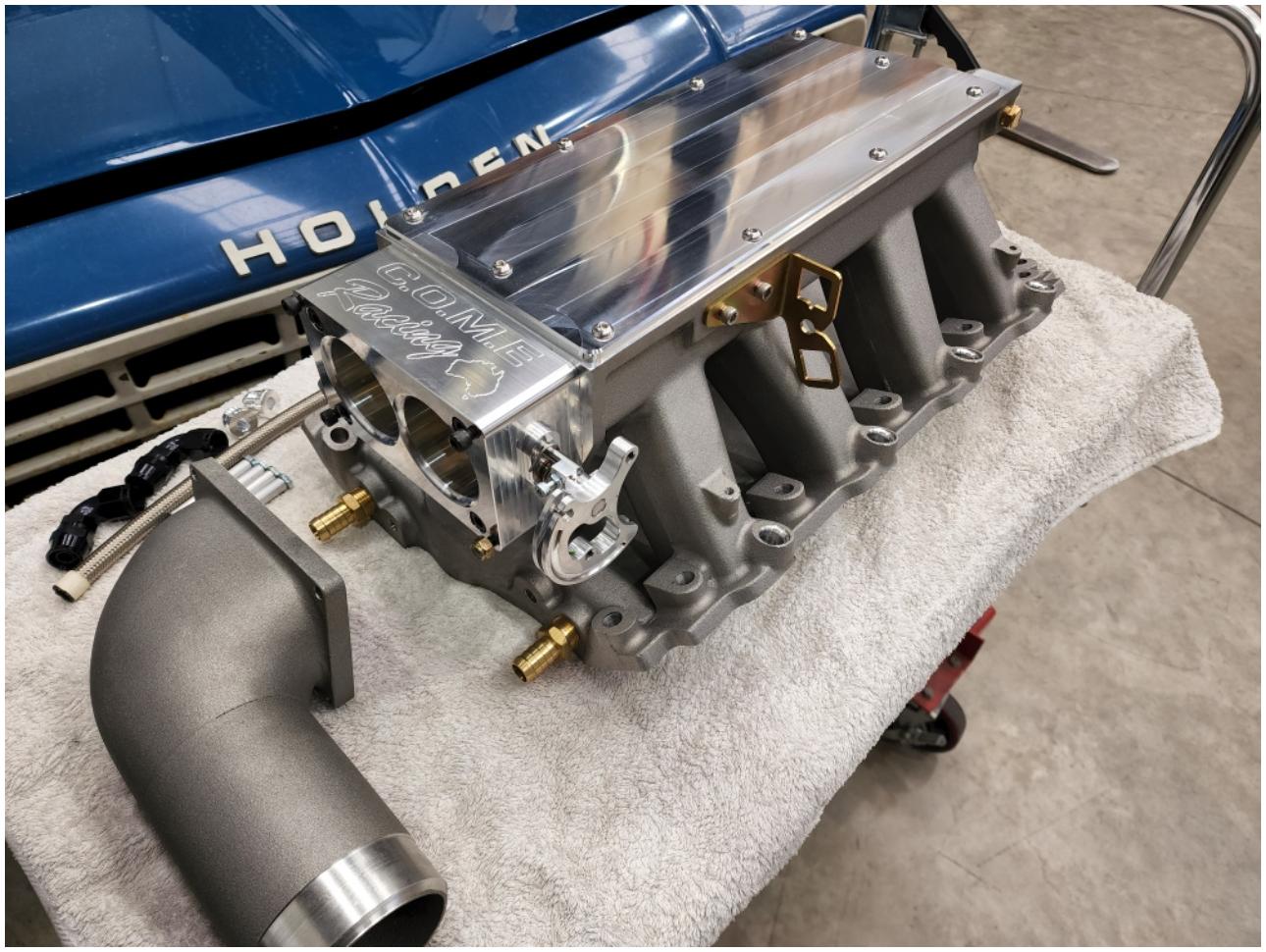 Catalog Item Type:
Components
Fits Engine:
Holden V8
Component Category:
Intake Manifolds
Kit Category: Does not apply to this item Package Type: Does not apply to this item Part Number: COME TTB VNV8 Specification Sheet: Does not apply to this item Price: $3 850.00 Discounted Price: Not Discounted Shipping Cost: $ 140.00
Total Cost with Shipping:
AUD 3,990.00
Australia's most powerful intake manifolds for the Holden V8 fitted with VN style EFI heads. Take your pick, EFI Twin 58mm billet throttle body design or dual 4 barrel option.
The Twin Throttle body EFI manifold is by far Australia's most popular Holden V8 EFI intake and for very good reason...it is the best one on the market at maximising power and torque of any Holden V8 particularly the stroker engines.
The Twin Throttle body desing will support up to 600bhp easily on the right engine combination. Where 550+bhp is needed the tunnel ram option using dual 4 barrel throttle bodies provides your Holden V8 with UNLIMITED airflow capacity.
For the old school restorations or maximum effort Drag Race engines the tunnel ram version accepts dual 4 barrel Holley flange carburettors for unlimited power outputs and maximum rpm potential for show or full bore race engines.
The Twin Throttle body intake...fits under the bonnet of any GM car...works with original equipment fuel rails...original GM sensors bolt straight on. This intake easily increases power of a typical 355ci or 383ci street engine by at least 50-60bhp over the factory single throttle body manifold. It also outpowers the factory Group A manifold at a fraction of the cost of those hard to find pieces.
Our Twin Throttle Body manifold comes complete with full fitting kit, throttle cable bracket and alloy intake snorkel which hooks up directly to factory or aftermarket air boxes. Can also be used with pod filters or K&N TPI Chev filters with optional billet alloy oval filter apapter.
Send Enquiry