Submitted by

Sam

on Sat, 17/11/2012 - 14:18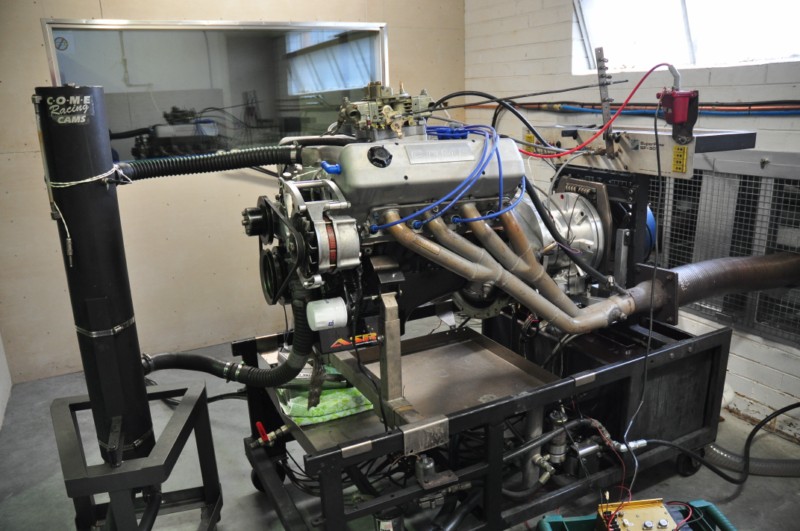 There are numerous ways to develop an engine for your street car, race car, Bracket Race car or whatever application you are hoping to power.
COME Racing has always tried to enable enthusiasts as well as professional engine builders to achieve their goals more quickly and accurately through the development of real world components that achieve astounding results when combined in the correct way.
The above engine is only one example of a combination that can be bolted together easily and without all the mystery surrounding "the perfect combination".
This 383ci Holden V8 weekend or Bracket Race engine consists of a series of bolt on parts and will enable anyone to make enough power and torque reliably to power a Commodore weight car to 10 second quarter mile times without an N2O bottle and still live for many years with only basic maintenance.
Making around 550BHP and 470ft.lbs torque out of an engine like this has never been easier and at a reasonable cost by todays standards. The smoke and mirrors approach of yesteryear where individuals needed to experiment with different components to achieve their final goal is long gone.
383ci Ultimate Engine components list...
1) COME "600" Series VN style alloy heads with 2.08"intake and 1.6"exhaust valves, out of the box...unported.
2) COME 4BT VN style low rise single 4 barrel carburettor intake manifold.
3) COME 383ci forged piston stroker kit fully balanced with COME "I" beam 4340 steel fully floating rods and
nodular cast iron 8 counterweight internal balance crankshaft.
4) COME CSBS-137-110 solid flat tappet camshaft...254 degrees @ .050" intake and 262 @.050" exhaust.
5) ASR custom oil pan and oil pickup assembly.
6) Holley #4779 750cfm double pumper carb.
7) Bosch HEI electronic distributor fully curved. Optional MSD7AL2 ignition box and coil recommended for race applications.
8) Valve train completion kit including COME billet alloy roller rockers (1.65:1 ratio), 7/16" screw in studs and COME guide plates. Moly pushrods.
9) COME alloy valve covers fully baffled with zero leak design and rapid remove and refit capability for fast valve lash checking.
10) COME Racing K1045 Duraflex steel 4 bolt main bearing caps and ARP 2 bolt main bottom end stud kit.
11) Austral cast iron fully blueprinted oil pump and COME 4140 steel oil pump drive shaft.
12) Fully blueprint machined engine block. Preferably a late model EFI block is ideal for maximum strength.
13) Rollmaster competition series double row timing chain and gear set.
14) Speco Thomas 1" open hole carburettor spacer.
Of course one needs to keep in mind that the addition of a more competition oriented carburettor like a Holley billet 950 Pro Series version will easily add an additional 25bhp and 20ft.lbs torque. The basic 750 cfm version used here however is a great all rounder for street or circuit use where stronger torque curves lower down the rpm scale are more desireable.
An engine like this is available completely built from your donor late model EFI 5 litre V8 and fully dyno run in for $18,500.00 OR, unassembled with all parts supplied and machinework done for $16,000.00 OR, we can supply whichever parts you require to do it all yourself and have your machinework done locally.
Remember this is only one example of a very large range of combinations we are currently developing to make life easy for anyone to achieve great results easily in both carburettor and EFI versions for competition down to everyday driver use.
See our components listings below for pricing of parts you will need to build your own "Ultimate" or basic street/strip engine.
COME Racing 590 Series VN-VT alloy heads...590+hp out of the box!
By far the best flowing out of the box Holden V8 cylinder heads on the market. Weigh up the cost of rebuilding factory cast iron heads, having them ported, buy stainless valves, dual springs etc.etc. You will burn up over $3000.00 easily for a pair of cast heads taken out to the max.
For virtually the same money you can have our brand new, Australian made alloy heads which will outflow and out power any head on the market made for the Holden V8. Look at the deals available below and just order our heads when you are building that new Holden V8 for normally aspirated applications or boost. You cannot beat these heads for power/torque production and value for money. Not to mention the 22kg weight saving off the front of your car.
1) COME Racing 590 heads complete...$3500.00 a pair.
2) COME Racing 590 heads complete with our alloy valve covers...$4000.00
3) COME Racing 590 heads complete with  our COME single 4 barrel carb intake...$4300.00
4) COME Racing 590 heads complete with our COME Twin Throttle Body EFI intake...$6000.00
COME Racing "600 Series" VN-VT alloy heads...640+hp out of the box!
1) COME Racing 600 heads BARE...$2800.00 a pair.
2) COME Racing 600 heads complete 2.02" valve (flat tappet or hyd. roller applications)...$3800.00
3) COME Racing 600 heads complete 2.08" valve (flat tappet or hyd. roller applications)...$4000.00
4) COME Racing 600 heads complete 2.08" valve (solid roller applications).........................$5200.00
COME Racing Stroker kits...don't be tempted to buy lower cost crank kits.
You may end up having to replace the cheap broken crank anyway. After over 22 years designing, testing and manufacturing crank kits we have the strongest and most reliable versions on the market today...
Holden forged piston kits, nodular iron 8 counterweight crank, "I" beam 4340 steel rods, fully balanced internally, including moly rings, conrod and main bearings...
355ci kit $2400.00           355ci cast crank only $880.00            BILLET 4340 steel cranks
383ci kit $2700.00           383ci cast crank only $1100.00          from $2750.00 Various strokes
396ci kit $3000.00           396ci cast crank only $1200.00          in stock including 355, 383, 396.
COME Racing intake manifolds...
Holden V8's cannot be fed better with air and fuel mixtures to enable maximum efficiency, power and torque than with either our top selling Twin Throttle Body EFI intakes complete with full fitting kit for $2500.00
 OR...our Part # 4BT Single 4 barrel carburettor intake to suit VN style heads for $850.00 This brilliant low rise manifold will consistently out- power ANY other factory or aftermarket manifold on the market today.
It will fit under any bonnet (all GMH cars) and the unique plenum design negates the need for carb spacers to power levels around 520bhp.
COME Racing VN style alloy valve covers...
These are not just a cosmetic upgrade for your Holden V8. They were designed to provide maximum clearance for any rocker system, have real oil control baffles built in, will never leak oil. They come with breather outlets, leak free oil filler cap, installation fasteners for $595.00 a pair.
Your choice of Commodore drivers side cover cast with clearance for brake boosters or symmetrical covers for earlier model applications.
See the engine photo above.
Buy your engine buildup parts at the same time and save money. We offer discounts for many components purchased at one time!
Please note...PRICES SUBJECT TO CHANGE...ASK us before ordering.