Submitted by

Sam

on Sat, 05/01/2013 - 13:58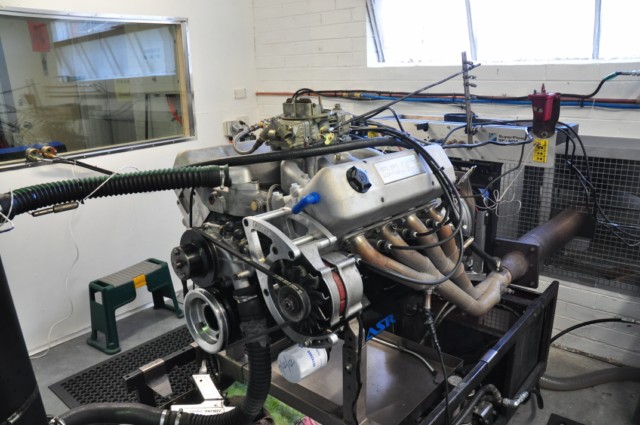 A new year and the power stakes ramp up even further. Making more power and incredible torque from your Holden V8 is easier than ever.
Another easily emulated engine combination anyone can build with the following COME Racing components...
1) COME Racing 396ci Stroker kit...$3000.00
2) COME Racing 600 Series alloy VN style heads complete...$4000.00
3) COME Racing Single 4 barrel (carburettor) intake manifold...$850.00
4) COME Racing VN style alloy valve covers, fully baffled...$595.00
5) COME Racing part # HVH-234 hydraulic flat tappet cam and lifters...$550.00
Cam specs...234 degrees duration @.050" and .552" valve lift with 110 LCA
6) COME Racing fully prep YOUR cylinder block...$3000.00 OR with 4 bolt main
conversion...$4500.00
As you can see from the "in room, uncorrected" dyno sheet making over 500bhp is pretty simple to achieve. The real kicker is the insane 430+ft.lbs torque @ 2750 rpm peaking to 490ft.lbs @ only 4750 rpm. Corrected power numbers are 532 bhp with 505ft.lbs torque.
This is done with off the shelf 750cfm Holley #4779 double pumper carb and a Bosch HEI ignition.
Pacemaker 1 3/4" Tri-Y extractors to suit Commodore and a fully baffled ASR oil pan. This is not
Rocket Science...it is a fully developed combination just waiting for you to copy.
See this engine running...
http://www.youtube.com/watch?v=NqgRKl19s8w